OUTEE Simmentaler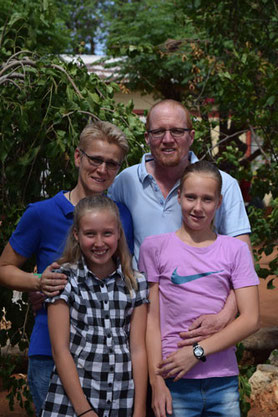 OUTEE Simmentaler ist seit 2006 bei der südafrikanischen Simmentaler Genossenschaft registriert.

Der Name OUTEE bezeichnet eine auf unser Farm gelegenen Pfanne, die Einheimischen schon sehr lange als Wasserloch diente.
Die Zucht befindet sich auf unserer Farm Ouparakane, welche nördlich von Hochfeld im sogenannten Sandfeld, gelegen ist. Ouparakane umfasst 8000 ha, 42 Kamps und neun gut ausgestattete Wasserstellen. Wir befinden uns auf 1470 m Höhe und haben durchschnittlich 440 mm Regen im Jahr.

Unsere Zuchtgröße liegt zur Zeit bei 90 Kühen. Gestartet haben wir unsere Simmentaler Zucht mit unserem eigenen Zuchtstamm, es wurden nie Kühe von außerhalb dazu gekauft, sondern durch Verdrängungskreuzung ausgebaut. Unser Zuchtziel sind fruchtbare und gut angepasste Kühe. Unsere Tiere werden extensiv auf der Weide gehalten. Lediglich die Zucht- und Verkaufsbullen werden gefüttert.

Besuchen sie uns auf unserer Farm Ouparakane oder auf den beiden jährlichen "Gemeinsamen Hochfeld Auktionen" in Windhoek und auf der Farm Okongeama.


OUTEE Simmentaler came into existence in 2006 when we were officially registered to the Simmentaler / Simbra Breeders Society of Southern Africa.


OUTEE is called a pan on our farm, which used to served the natives as an waterhole.
The breed is located on our Farm Ouparakane, which is north from Hochfeld in the Sandfeld area. Ouparakane has 8000 ha, 42 camps and nine well equipped boreholes. We are on an altitude of 1470 m and we get an average of 440 mm rain every year.

Our breedingstock contains 90 cows at the moment. We started our Simmentaler breeding with our own stock of cows and never brought cows form the outside. Instead we used displacement crossbreeding to expand our herd. OUTEE Simmetaler goals are fertile and well adapted cows. The animals on Ouparakane are extensive hold on meadow. Only breeding and sells bulls are fed.

Visit us on our farm Ouparakane or find us on the two annual "Combined Hochfeld Auction" in Windhoek and on the farm Okongeama.